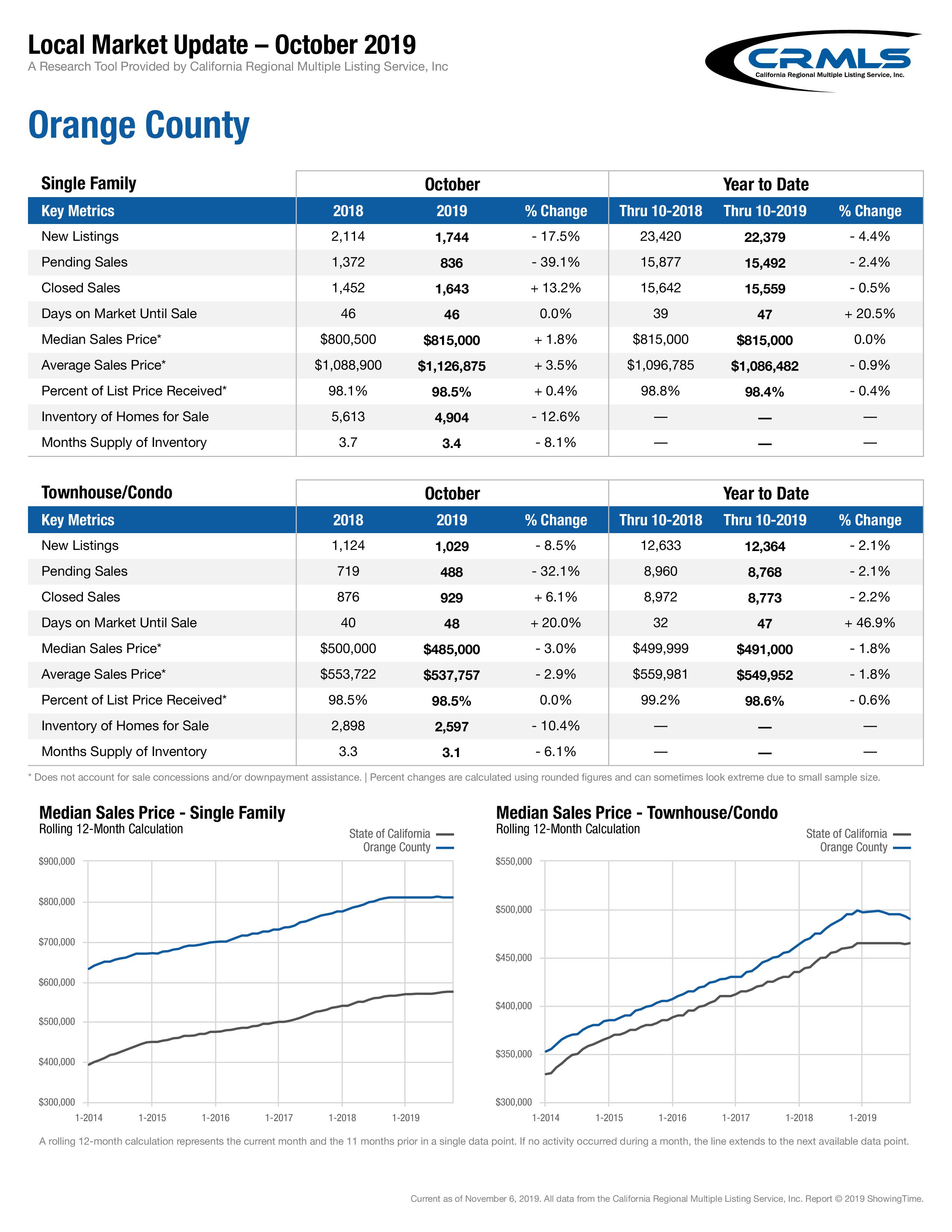 Here is the October 2019 Orange County real estate market update from the California Regional Multiple Listing Service (CRMLS). This is the latest report available; I will update once a new update is posted.
Big news in the market are rates: still at historic lows, there is no doubt that the low interest rate is helping keep the market active.
From the above, we see that New Listings for Single Family homes are down 4.4% year-over-year, with townhouses/condos down 2.1%. Simply put, there are not enough homes available for sale. Interestingly enough, Pending Sales are down 2.4% & 2.1% yet Closed Sales are down only .5% and 2.2%.
Price-wise, the Average Sales Price for Single Family homes has slipped .9% to $1,086,482, down from $1,096,785 in Oct. 2018, with townhouses/condos down 1.8% to $549,952 from $559,981.
We are seeing more homes being snapped up by 'iBuyers' including OpenDoor, Knock, OfferPad, Zillow Offers and many more are actively looking for the next deal. (Check out our blog post on iBuyers.) We are also seeing increased use of down payment assistance programs, as many have been priced out of the OC market.
We are also seeing more homes being listed for sale but not publicly marketed. (Known as 'pocket listings', 'whisper listings', 'private listings', 'coming soon' and 'off-market listings/deals'.) However, the National Association of Realtors (NAR) board of directors voted to ban the above type of listings. Big question in all this is, when a Broker/Agent signs procures a Listing Agreement and the seller(s) don't want the property marketed publicly, will this allow the Broker/Agent to exclusively market the property without putting it on an MLS?
One of my favorite real estate-related sites is ChicagoNow; one will find some excellent real estate news and views, including some excellent articles on the 'evils' of pocket listings. Well worth reading.
Have a fantastic 2020 – and don't hesitate to call me at 949-285-1207 with questions about buying or selling property in Orange County, California.
#PocketListings #PrivateListings #WhisperListings #OffMarketDeals #MLS #ComingSoon #OffMarketListings #PrivateListings #RealEstate #Realtor #BruceClark